The first and easiest step in taking your business digital.
With eSignAnyWhere it's easy to get documents signed on any device. We simply use your existing forms and documents and can archive finalised PDFs back into your systems.
We support the widest range of electronic signing methods on one platform, so you do not need to decide in advance which is best for each use case. You can have multiple signers and get them to sign in the order you need.
The eIDAS regulations established three recognised eSigning types:
Simple or basic
Advanced electronic or digital
Qualified ("gold standard")
Each level increases the certainty around Identity and Authenticity, and Integrity. Selection of the right type may trade-off these certainties against convenience.
One eSignAnyWhere instance supports all signature types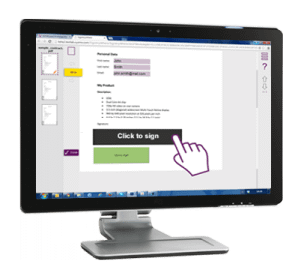 simple signatures (Click2Sign, Draw2Sign, Type2Sign)
certificates for signing
biometric signatures
Each delivering a higher level of authentication and proof. eSignAnyWhere is fully eIDAS (EU 910/2014). Where data privacy is a priority our data centres are based in the EU or you can also install eSignAnyWhere on your own infrastructure.
In combination with authentication (e.g. OTP-SMS) we support Advanced Electronic Signatures (AES) and Qualified Electronic Signatures (QES) the gold standard for eSinging.
We support the delegation of signatures (in which a user forwards a signature task to someone else), parallel signing (two or more signers signing in parallel), and bulk-signing (the ability to sign more than one signature field at once).
Benefits
Green – reduces paper and postage significantly
Hygienic – No need to be in the same location
Fast – No postal delay
Flexible – Become agile in response to changing working practices
Cost-effective – See a payback in weeks or months
Secure and trusted – Full provenance and the highest recognised levels of security and integrity
Namirial – Key Numbers in Digital Transaction Management
| | | |
| --- | --- | --- |
| | 1 B | Transactions per year executed with Namirial SaaS solutions |
| | 1.8 M | Electronic certificates per year as basis for eSignature / eSeal |
| | 3 M | Signatures created on peak days with Namirial SaaS solutions |
| | 550 K | Workplaces equipped for handwritten signature capture – incl. biometric characteristics |
| | 7 M | Biometric signature user-profiles handled by Namirial customer |
| | 300 M | Documents securely stored in Long Term Archive |
| | 700 K | Active accounts of electronic registered delivery service |
| | 80 M | Electronic invoice over more than 200.000 customers |
| | 50+ | Countries with customers using Namirial solutions |